Dear customers,
Vodafone has been made aware of a Flubot SMS scam and are advising customers to be especially vigilant with this piece of malware and to always be very careful about clicking on any links received in an SMS. The scam text message in this instance is impersonating as a provider on the Vodafone network and is affecting Android phones. The malware is acting as an SMS generator within affected devices and seeking to steal personal banking information from Crypto wallets or banking apps.
Here is an example of the text received: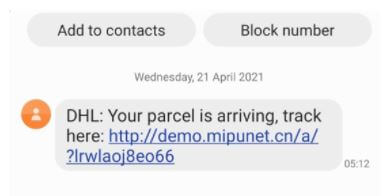 You should forward anything suspicious to 7726 so the links can be tracked. The best advice if you're unsure is to ignore, report and delete. Vodafone has stated that they will refund any customers who have plans that have resulted in them being charged for SMS messages sent by the malware. However, only a handful of customers have been affected thus far.
If You believe that they have been affected, please advise that they should perform a device factory reset, and contact us as soon as possible.
We are highlighting this on Vodafone as the network has brought this issue to our attention, however that is not to say that the same scam has not affected other network providers too.
We are working as quickly as possible to remove the scam, but in the meantime we want to ensure that you are aware of this and that you stay vigilant.
Kind regards,
Orbex Solutions