HelloSign is the easiest way to send, receive and manage legally binding signatures for your business of any size. HelloSign help individuals and teams quickly and securely complete paperwork online through an intuitive, user-friendly signing experience.
HelloSign provide the same powerful workflow, security/compliance, and custom branding that large companies require at an SMB-friendly price. With tools like automatic email reminders, flexible signing workflow, team management capabilities and more, HelloSign help businesses all over the world ditch costly paper processes, increase efficiency, and reach a ROI faster.
Businesses that use HelloSign benefit from up to a 93% reduction in turnaround time with contracts. HelloSign customers have seen results like a near-10% increase in revenue, average savings of more than $50k annually in employee efficiency, and increase in sales close rates of up to 25%…
Overall, HelloSign the ideal solution for businesses to ensure their most important document transactions are completed with ease. HelloSign's signature experience is optimized for mobile too, so anyone can fill out and sign documents anywhere, at anytime.
What is HelloSign?
Fast, secure, and Legally Binding online signature for Business. So, HelloSign is a web-based tool that allows users to sign documents with legally binding e-signatures.
HelloSign enables its users to sign agreements and all kinds of documents with a legally required electronic signature. They just need to email a document to the other side and request signing.
HelloSign includes features such as customization and collaboration tools for businesses of any size and bank-level security. With HelloSign, one can share templates and signed documents with the team, other internal departments, and outside counsel.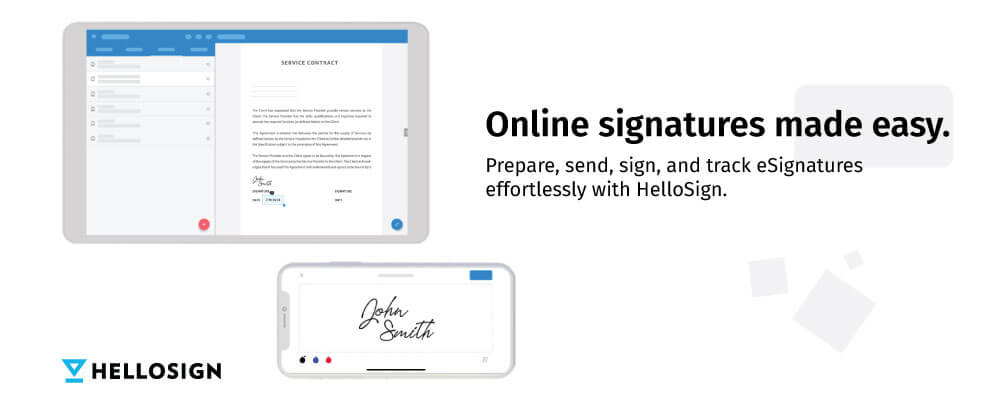 HelloSign features
HelloSign comes with a variety of useful features and capabilities, such as white-labeling, a flexible signing workflow, automatic email reminders, team management capabilities and so much more. The main benefits of HelloSign are its capabilities to make the processing of applications faster, get orders approved quickly, in-person signing capability, flexible and simultaneous work, and robust security. Here are more details:

| | |
| --- | --- |
| ✓ Audit Trail | ✓ Document Analytics |
| ✓ Authentication | ✓ Authentication |
| ✓ Reminders | ✓ Task Progress Tracking |
| ✓ Branding | ✓ Templates |
| ✓ Cloud-based | ✓ Third-party integrations |
| ✓ Two-factor authentication | ✓ Phone & email support |
Key benefits of using HelloSign
The main benefits of HelloSign are its capabilities to make the processing of applications faster, get orders approved quickly, in-person signing capability, flexible and simultaneous work, and robust security. Here are more details:
Improve transparency – All documents have a visual audit trail of activity, and signature requests can be easily tracked with our status dashboard. No more trying to figure out the status of that contract!
Streamline work – Integrated with popular tools like G-Suite, Google Drive, Salesforce, Box, Dropbox, Oracle, Evernote, Microsoft, HubSpot, Slack and Zapier
Security comes first – All of your documents are kept private using encryption both in transfer and at rest. Read more.
No more paper – 100% digital means no more faxing, printing or scanning required; all documents are sent, signed and stored in the cloud
Improve revenue – Decrease time to cash and improve revenue by as much as 25% with the ability to instantly sign and distribute a contract
Integrated into your ecosystem – A developer-friendly API with the industry's fastest setup time (2.5 days) means you can add eSignature to your app, website or workflow in a matter of days
Sign from anywhere – Sign and send documents from your mobile device, our web interface or directly from your email.
How to use HelloSign?
Now that we are entering an era of remote work, it is more important than ever to leverage digital processes to adapt to the changing landscape. HelloSign enables sales reps to capture legally binding electronic signatures to complete important contracts and agreements both faster and more securely than traditional paper-intensive processes. Here's how it works:
1) You upload a document.
2) You create blank fields in the document for either you or someone else to fill in. (Think: email address, job title, signature, initials, date signed, and so on).
3) You send the document out to request signatures. 
4) HelloSign automatically fills in any fields it already knows (e.g., email address); the recipient completes the rest. They can type out their name to act as their digital signature, or they can upload a photo of their actual signature—whatever they prefer.
5) You get notified that they've signed; you countersign.
6) Both parties receive an email with a copy of the signed contract.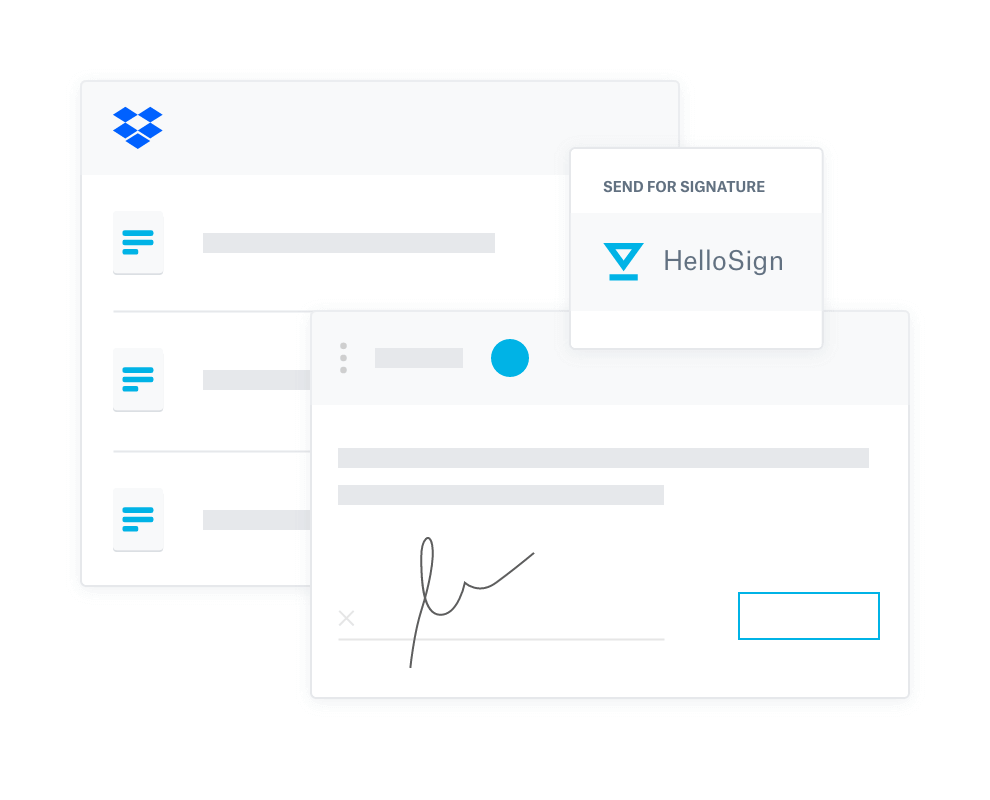 HelloSign enables secure electronic signatures that are business-caliber, easy-to-use and legally binding.
HelloSign simplifies work for millions of individuals. Over a hundred thousand companies world-wide trust the HelloSign eSignature platform to automate and manage their most important business transactions.
Get Signatures Fast
Without the need to print, scan, fax, or use couriers for hard copies, your contracts will be signed and completed up to 80% faster.
Increased Completions
Simple features like reminders and easy-to-track workflows remove common obstacles and deliver more completed contracts.
Branded Experience
Reflect your company's brand identity and culture by incorporating logos and messaging into fully customizable signature requests.
HelloSign helps its customers close deals faster, onboard new hires with ease, improve document completion rates, and much more…
We are thrilled to partner with HelloSign to simplify document signatures, speed up transactions and do better business. Helping SMBs achieve great things has been a top priority for Orbex since our launch in 2001. We continue to dedicate ourselves to providing the perfect solutions for businesses ready to leave behind costly paperwork systems and clunky document flows. This goes far beyond electronic signing!
If you're a business looking for a solution to take the paperless leap, please contact us.